Highlights from the T3 Summit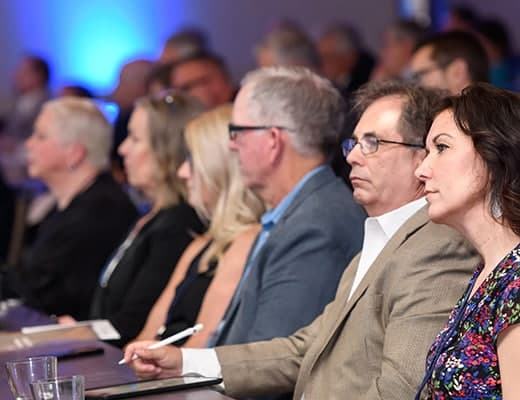 n May 3-5 in San Antonio, Texas, T3 Sixty held its annual 2022 T3 Summit, its first in-person event in over two years, where approximately 400 brokerage industry leaders convened to discuss, digest and analyze how to lead during disruptive times.
The annual industry think-tank is designed to bring real estate's most powerful leaders together to network, strategize and gameplan their futures.
In addition to two keynote speakers and a panel on cryptocurrency applications in real estate, the event featured one-on-one interviews with 16 CEOs, including:
Nick Bailey, president and CEO, RE/MAX

Rich Barton, co-founder and CEO, Zillow Group

Sean Black, co-founder and CEO, Knock

Gino Blefari, chairman and CEO, HomeServices of America

Paul Boomsma, CEO, Leading Real Estate Companies of the World

Helen Hanna Casey, Company Leader, Howard Hanna Real Estate

Sherry Chris, president and CEO, Realogy Expansion Brands

Anthony Hitt, CEO, Engel & Völkers Americas

Gary Keller, executive chairman, kwx

Carl Liebert, CEO, kwx

Tamir Poleg, CEO, The Real Brokerage

Glenn Sanford, founder and CEO, eXp World Holdings

Gavin Swartzman, CEO, Peerage Realty Partners

Philip White, president and CEO, Sotheby's International Realty

Craig Witt, CEO, EXIT Realty Corp International (U.S.)

Thaddeus Wong, co-CEO, At World Properties

Sue Yannaccone, president and CEO, Realogy Franchise Group
These leaders explored some compelling themes and trends the industry and brokerages currently face such as the end-to-end digital transaction, the increasing influence of consumer expectations and its impact on brokerage technology and applications, the rise of agent-administrative services and tools, the brokerage business model and more.
T3 Sixty has deeply explored many of these trends in the Swanepoel Trends Report and is in the process of analyzing many of these in its 2023 edition, due out in early December. Sign up for early digital access at T3 Intel.
This article presents some of the trend highlights from the event below.
Management and Efficiency
Gino Blefari shared his thoughts on the importance of brokerage branch managers and how important they are to the cultural and operational success for real estate offices, despite in-person office habits changing.
Gary Keller, in his interview, provided a clear perspective on the growing trend of efficiency in real estate agent operations. This includes the growing number of services such as Side and Place, which offer to take admin activities – such as payroll, transaction coordination, recruiting and training and transaction coordination – off agents' and their team's plates.
Consumer Focus
Zillow Group has always focused on consumers, and Rich Barton's interview fell in line with this perspective. As competition and cooperation evolves and shifts in the industry, especially in light of the pending class-action commission-related lawsuits, his company finds clarity by maintaining its focus on "the warm blanket of the consumer."
Likewise, Sue Yannaccone, who oversees Anywhere Real Estate's (formerly Realogy Holdings Corp.) franchise division, echoed the consumer-focused sentiment, and that her company is focusing on how to better assess what consumers want and deliver it. The company's new "Anywhere" brand introduced last week, reflects this more consumer-focused approach.
Metaverse and Blockchain
Thad Wong, who leads At World Properties, a growing real estate holding company which now owns Christie's International Real Estate in addition to one of the nation's largest brokerages and franchise brands, mentioned that he's bullish on the metaverse and cryptocurrency, and actively works to introduce the technology and features to his company's agents.
In the panel on cryptocurrency and NFTs, T3 Sixty Chief Technology Officer Mark Lesswing hosted a conversation with Teresa Grobecker, CEO of Real Estate Consortia, a company that creates NFTs related to real estate, and Eric Lapin, chief strategy officer of FormFree, a firm that uses blockchain to verify data and track assets.
The panel made clear, that while there are many sexy and potentially exciting applications of blockchain technology in real estate, much of the application will involve valuable improvements to the way transactions are recorded and verified.
Takeaway
The industry is changing at a rapid pace, which the T3 Summit explored in compelling detail. To access the full executive brief of the T3 Summit, visit T3 Intel.